34 Centenary Drive, Goonellabah: 'Lismore Storage World'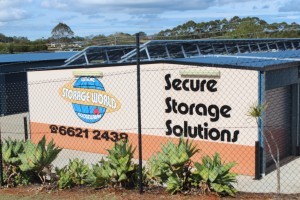 Lismore Storage World Goonellabah is conveniently located at 34 Centenary Drive, right in the heart of the Centenary Industrial Estate in Goonellabah. The easily accessible, flood free position is Lismores' most modern self storage facility with all sheds individually alarmed & monitored by Summerland Security.
Authorised persons only can enter the facility and features a security gate with swipe tag access, ensuring occupants peace of mind 24 hours a day, 7 days a week.
Direct Debit is our easy pay option, with tenants required to pay two weeks in advance, plus a security deposit on the key tag provided. Renters are to supply their own padlock and contents insurance if required. All rates charged are weekly in advance.
There is a $50 bond payable on all sizes of storage sheds (refundable if shed is left clean & tidy and no rental arrears).
Weekly Costs *1.5 x 2 metres = $15 per week *3 x 3 metres = $33 per week *3 x 6 metres = $47 per week.
Call our office on 02 6621 2438 to check availability and book your storage shed today!
(*All Rates are inclusive of GST and subject to change without notice. Sizes are approximate only.)